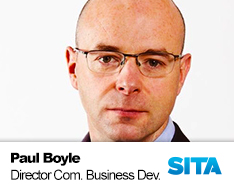 Paul Boyle, Director Commercial and Business Development at SITA
I've been interested in technology for years but realised pretty early that technology is only a tool to solve real problems – in business and in life. This led me into a career in product management and business development where I get to take communications, wireless and IoT technologies and apply them to customer problems. Ultimately, I'm all about getting things done – creating teams, delivering revenue growth, driving margin or launching new products and solutions.
Over the years I have also built up an in-depth understanding of IoT technologies like LoRaWAN and 5G as well as the SDN networking that interconnects them. I also spend a lot of my time using data to understand problems (and tell stories) and I have a detailed knowledge of Data Analytics technologies like R and HiveQL – knowledge I'm formalising with a MSc in IoT (with Big Data Technologies).
The best part of any job is the people. I've been lucky to work across the world with some great talent in companies like SITA, BT, Telstra and KPN, leading teams distributed across countries and continents. SITA, my current home, is the world's largest supplier of IT applications and infrastructure to the air transport industry. We deliver everything from check-in systems, to baggage software to communications services in over 180 countries. I have also led small and large teams of product managers, business developers and project managers building up some pretty good leadership and communication skills along the way.
Professional Skills
Product Management, Business Development, Product Pricing, Marketing, Product Development, Planning, Forecasting and P&L management.