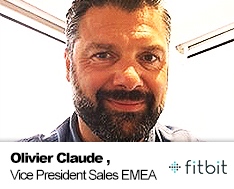 Olivier Claude is currently Vice President Sales for Fitbit for the EMEA region (Europe Middle East & Africa).
In this role, Olivier is responsible for the EMEA Commercial Strategyr Fitbit, the leading global wearable brand headquartered in San Francisco.
His scope of responsibilities includes the retail side of the Fitbit business for EMEA as well as the BtoB business which includes Fitbit Pay , the new contactless enabled payment solution on your smartwatch.
Olivier has joined Fitbit more than 2 years ago and prior to his current role, Olivier was Worldwide Sales and Customer Operations Vice President at Kodak. He was also the Chairman of the Board of Eastman Kodak Sarl (the EMEA entity based in Geneva).
Previously he held several positions of General Manager, for the consumer as well as for the commercial divisions and therefore has a strong operational experience in BtoC as well as in BtoB.