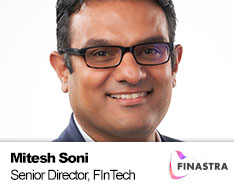 Steve has been with Experian for 10 years transitioning through various roles in B2B. He has led various initiatives including the development Mitesh Soni is a Senior Director of Innovation and Fintech at Finastra, the world's third largest financial technology company.
He is a global banking industry expert with more than 20 years' experience driving business transformation, digital disruption, and business model redefinition. He has spent a number of years in the risk management and trading technologies space holding a Financial Risk Manager qualification from the Global Association of Risk Managers.
Previous experience includes HSBC, Deutsche Bank, Morgan Stanley and many others. He is also an investor, advisor and Fintech mentor with an active interest in building fintech community ecosystems. He is passionate about digital transformation, innovation and disruption through partnerships and creative investment strategies.