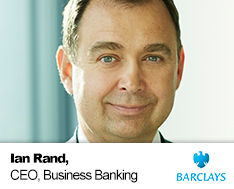 Ian Rand, Barclays /
Ian was appointed in March 2016 as CEO of Business Banking, Barclays UK.
He is responsible for the business that provides banking services to nearly 1m UK small business clients, ensuring that we support their growth, and deliver outstanding service every day.
Prior to 2016 Ian was COO for Corporate Banking responsible for the day to day operations of the Corporate Bank, and delivering major change projects.
Ian joined Barclays in 2008, prior to that he was a COO at JPMorgan in London and New York for 8 years, working in Sales, Trading and Research.
Before moving to banking, Ian served in the British Army for 10 years working in Northern Ireland, Norway, Bosnia and Kosovo.
Ian is married, and spends his weekends sailing, breaking and repairing high-performance sailing dinghies.