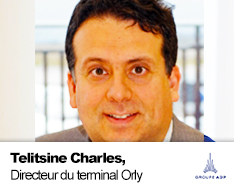 Charles TELITSINE /
Paris CDG Airport
Charles TELITSINE is a terminal Management and Airport innovation expert. From 2011 to 2018, he was Chief Operation Officer of West Terminal at Paris Orly airport (32 Million passengers facility south of Paris).
Charles, was also in charge of the terminal development (500 M€ investment in the last 7 years). He developed many innovative projects on both airside and terminal management, with the French tech, and received 3 awards for achievements in innovation.
In 5 years, he had developed more than 300 000 m2 of new real-estate products (hotels, offices, shopping malls, freight stations, warehouses), commercialize and ensure the setting up of operations of major land transactions and development (Heart of Orly, Roissypôle transformation,…).
He is now in charge of a task force dedicated to drone management systems (UTM and C-UAS), built by Groupe ADP, Thales and the French Civil Aviation Authority to develop the Hologarde Solution in Paris CDG Airport.